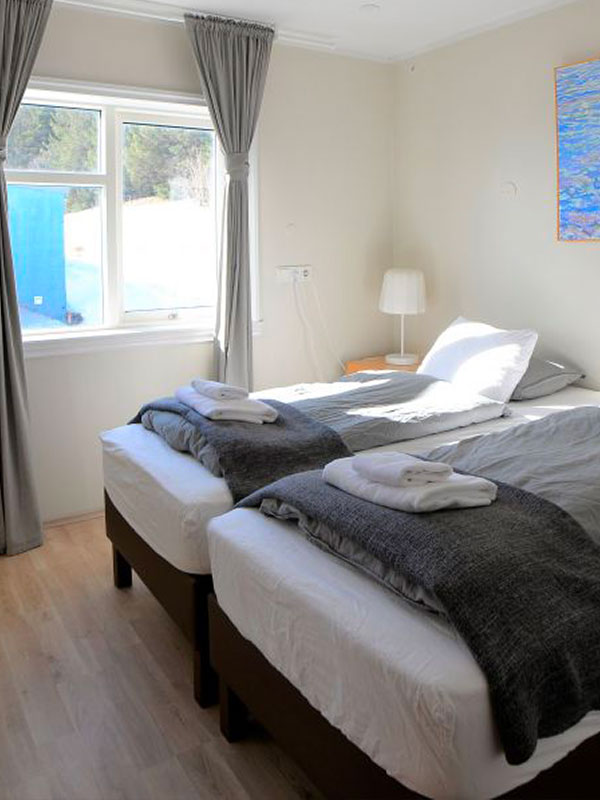 Klausturhof Guesthouse offers an accommodation for up to 90 people in 38 rooms, – double and family rooms with private or shared facilities.
Our rooms:  We offer two room types in Klausturhof, yellow and blue rooms.
Yellow rooms – private rooms with bathroom w/shower.
2   rooms for 1 person
22 rooms for 2 persons ( 2 single beds or 1 double bed )
3   rooms for 3 persons
Blue rooms – private rooms with washbasin.  There are bathrooms with showers and separate bathroom for handicapped close to the rooms.
9 rooms for 2 persons ( 2 single beds )
1 rooms for 3 persons ( 3 single beds )
1 rooms for 4 persons ( 4 single beds )
Address Klausturvegur 1-5
880 Kirkjubæjarklaustur
Ísland / Iceland GPS 
N63.47.174 W18.03.589 Location 
Southeast,  Iceland 
Restaurant Open 17:30 – 21:30

Reception Open
7.30 – 10.30 and 16.00 – 21.30
Check-out until 10.30 hours / Check-in from 16.00 hours
Breakfast: Summer 7.30 – 10.30 . Winter/Spring 8.00 – 9.30